Easter Jeep Safari in Moab, Utah, is one of the largest and most well-known Jeep events in the nation. Not just hundreds, but thousands of Jeeps come from all over the nation, and all over the world. People ship Jeeps from different countries, and across large seas, just to come wheel here in Moab during this week. But, there are a lot of things people don't think about when they're trying to prepare for EJS.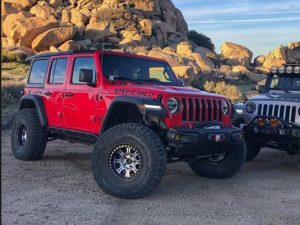 How to Prepare For Your EJS trip to Moab in 2020
The first thing to attend to is lodging. People book rooms a year in advance for this event (which is why we're preparing you for next year's event now), so make sure you have somewhere to stay well in advance. You see, when EJS ends, there will be many people already booking hotel rooms or condos for the following year. So, you definitely want to make sure you plan well in advance, regarding where you want to stay, so you're not sleeping on the cold hard ground.
Next, you'll need to consider how many people will physically be here, and be out on the trails. It is always a great idea to bring extra snacks, food and plenty of water. We cannot emphasize enough, the need to bring plenty of water. For this event, you are in the desert. It's high desert, so you have high altitude and dry weather. You can become dehydrated quickly.
Listen up, the trails can get so congested, that a trail which might normally take four or five hours, could ultimately end up taking you ten hours, possibly twelve. Some of these trails say two to three hours. You will be on them seven to ten hours during this time.
Now you may wonder, why would I want to go at this time? Why am I going to spend ten hours on a trail when it should only take me two hours? You see, it's ten hours on a trail with dozens of other people that share the same passion as you. Honestly, it's a blast.
Plus, you get to see crazy builds! Everything from stock Jeeps, all the way up to black-ops that have 49-inch tires on a new JL. You're wheeling with people from all walks of life, from all over the world. It's like SEMA, but for Jeeps and everyone, not just big companies in the industry.
Another important factor to prepare for is clothing.
So, pack for all weather conditions. Bring shorts, bring pants, bring a jacket, along with tank tops. Don't forget the sun block. Sun block is really important. Again, altitude plus desert, makes it really easy to get sunburned, so bring a hat, sunglasses, and all the typical things that are so simple, yet so many people seem to forget them.
Remember, you can leave your home or hotel at eight in the morning when it's sixty five or seventy out, then the high can be eighty or more. However, if you only wear shorts and a T-shirt, and you're on the trail at ten o'clock at night, it can get down to thirty five or forty fast. Then it can become a problem really fast.
To add to the fun and excitement, Jeep also brings out concept vehicles every year. This year is especially unique because Jeep just rolled out their brand new Gladiator truck, which is the first time they've featured a truck in almost thirty years. So this year is actually very special. It's the first time that the public is going to be able to see these in person. The excitement for this event was crazy.
So to recap, so you can be prepared when you make it out to Moab for EJS next year, secure your lodging well in advance. Bring proper clothing, food and plenty of water. Then be prepared to have the best time of your life, seeing awesome things and meeting amazing people.
Now, since you're a wheeler, you wont' want to miss out on the biggest thing to happen since Moab 2019… E3 Off Road… launching soon.
Get On The E3 Offroad List Today.
You'll get special extras no one else will receive when we launch.